Books
Paul Auster, In the Dark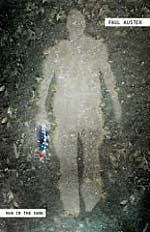 In Paul Auster's new novel, the 'Man in the Dark' is August Brill, a retired book critic with a broken leg, a broken heart, and a serious bout of insomnia. Lacking the season of all natures, sleep, Brill endures an endless cycle of dark nights of the soul by making up escapist stories in his head, an activity that dampens his dread of day by redirecting psychological traffic. In his nocturnal narrative, the United States is in a bloody civil war, with seceding sections of the country forming the Independent States of America. Owen Brick, the magician-protagonist of Brill's story, has been drafted by a faction of the Secessionists into assassinating the man responsible for it all: August Brill, a retired book critic.
Why August? Because his imagination brought this world into being. That's the writer's job. "The story is about a man who must kill the person who created him, and why pretend that I am not that person? By putting myself into the story, the story becomes real. Or else I become unreal, yet one more figment of my own imagination." As this passage indicates, Auster has long been an intrepid traveler to the alternate universe of metafiction, exploring and mapping the strange interstices between author, narrator, reader, and fictional 'reality.' In his New York Trilogy, Auster drew intriguing parallels between writing and detecting: his hardboiled altar egos searched, like every good writer, for that slippery and elusive thing called Truth, invariably finding Truth to be chimeric, just out of reach.
Though Man in the Dark shares themes with earlier Auster works (parallel worlds, author/character doubling, self-referential 'reality'), the impact is underwhelming. Auster takes a few half-hearted swings at Bush and the Iraq war, but Auster's books tend to be about Auster the Author, not contemporary events. Here his writing here is spare, elegant, and about as permanent as a plume of smoke. A writer so unsure of his own craft that he constantly tests its tenuous relationship to reality (like a kid tapping a frozen lake with his toe) is unlikely to produce a definitive statement about an event as devastatingly concrete as 9-11. Auster is interested in meta-fictional statements, not metaphysical ones. There is a tender moment in the novel when August remembers happening upon the kneeling figure of his wife as she prayed, "Dear God, fill the emptiness inside me and teach me how to love, to forbear, to give myself to others." August sees his wife's spiritual longing as quaint, even tender, like a child's belief in Santa Claus—the best he can do is not laugh. For August (as for Auster?) the emptiness is the point—not necessarily what can fill it.
TOPICS:
POST A COMMENT (Login Required)